Job Fair For Healthcare Workers
Wednesday, May 10, 20173:00 PM to 7:00 PM
(Career Fairs & Trade Shows)
---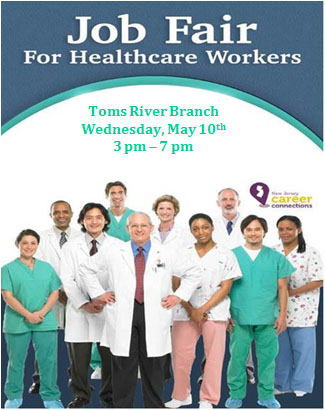 Over 20 employers are looking for people to fill the following positions:
HHAs & CHHAs; CNAs; Companion Care givers/ Caregivers/ Companions; Per Diem; PT &F/t RNs & LPNs including Hospice; Community Support Managers; Direct Care Staff in group home & Daycare; Community Support Managers; Supervisory positions; Social Workers; Occupational Therapists; Activities Assistant; Housekeepers; Marketing Assistant; Clerk; Community Service Aides; Dental Assistants & RDAs; Dentists (General & Specialists); Receptionist; Dietary Staff; etc….
Funded by the New Jersey Department of Labor and Workforce Development Career Connections grant.
Sponsored by Friends of the Toms River Branch Library.
Free Parking is available in the Ocean County Garage on Hooper Ave. See the link for a map.
For more info, contact Ocean County Library
Phone: 732-349-6200

Location:
Ocean County Library - Toms River Branch
101 Washington Street, Toms River, NJ 08753