Opiate And Heroin Forum
Thursday, May 04, 20176:30 PM to 8:30 PM
(Other)
---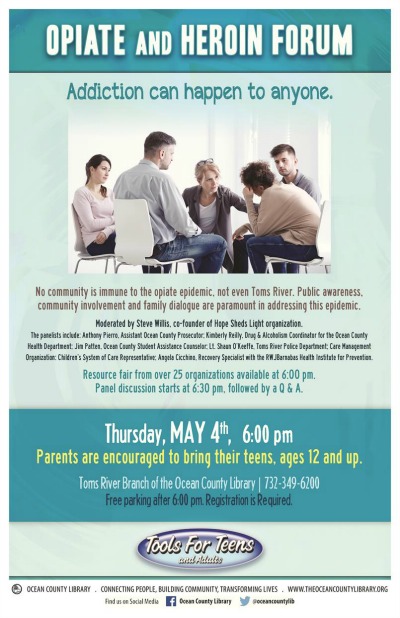 The Opiate and Heroin Forum will be to discuss the heroin crisis among our teen and young adult community, including:
Why and how our youth are using the drug.
The scope of the problem in Ocean County
Information about addiction and aspects of recovery
Available local resources
What the community can do to reduce and prevent substance abuse among our young generation.
*Parents and caregivers are highly encouraged to bring their teens, ages 12 and up. It is time to have this conversation.**Moderated by Steve Willis, co-founder of Hope Sheds Light org.The panelists include:
Anthony Pierro, Assistant Ocean County Prosecutor
Kimberly Reilly, Drug & Alcoholism Coordinator for the Ocean County Health Department
Jim Patten, Ocean County Student Assistance Counselor
Lt. Shaun O'Keeffe, Toms River Police Department
Angela Cicchino ,Recovery Specialist with the RWJBarnabas Health Institute for Prevention.
Children's System of Care Representative
Light refreshments and resource information available at 6 PMPanel discussion starts at 6:30pm followed by a Q & A.
Sponsored by "Tools for Teens & Adults" which is a series of free programs funded through a community collaboration involving the Ocean County Board of Chosen Freeholders, Ocean County Youth Services Commission, Ocean County Health Department, New Jersey Superior Court Probation Juvenile Supervision, Municipal Alliance Project, NJ Governor's Council on Alcoholism and Drug Abuse and the Ocean County Library in partnership.
Registration: *Please Register
For more info, contact Ocean County Library
Phone: 732-349-6200

Location:
Ocean County Library - Toms River Branch
101 Washington Street, Toms River, NJ 08753